When building a new house or renovating it, many people find themselves facing a dilemma, whether it makes sense to hire an interior designer, or it is better to buy the fanciest furniture you can see, and you will solve all issues of space you are decorating. Some laymen still think that it's just a decorator; but in fact, a good interior designer first considers and anticipates the proper functions of the premises. From a small dysfunctional dwelling, he can create in the same surface area the feeling that you are in a significantly larger apartment. Such solutions can not be fulfilled, not even by the best coach. An excellent example of a cleaned apartment, where all the storage spaces are moved to the corridor, so the living room can "breathe" is this apartment. After a deliberate implementation of the space arrangement, the interior designer will also devote himself to aesthetic and visual issues.
Interior design is a complex process of taking into account the regulations, the logical and functional distribution of spaces, aesthetic values, ergonomics, and the general functionality of each object, which will all be placed into space. In the artistic sense, interior design can also be very subjective, as it fits perfectly with the wishes of the clients. At the same time, it often happens that interior designers and their clients share their aesthetic beliefs.
In this article, we will describe the profession of an interior designer, what we do, what are our tasks, and whether we add value to space or the project.
The main goal that interior designers have is to make sure space is:
– functional
– aesthetically finished
– harmonious
– it enables natural movement in the area
besides, during the implementation itself, they ensure excellent time and budget management.
The interior design professional must possess knowledge of multiple fields, since he is responsible for creating useful and aesthetically attractive architectural spaces, within the physical structure. They usually deal with the behavior and movement of individuals in the working and living environment to create areas that are interesting and functional.
They operate in various commercial and residential sectors, such as the design of public spaces, shops, restaurants and bars, hotels and, most importantly, they deal with the design of residential buildings, such as houses and apartment buildings. Other contractors and builders depend on these professionals to provide advice on a variety of ergonomic and acoustic issues and to help in the design of lightning and traffic flow patterns that make sense in the specific interior environment.
This multifaceted profession is not merely a flair as many assume but requires a significant amount of practical training, years of practice and good connections with subcontractors.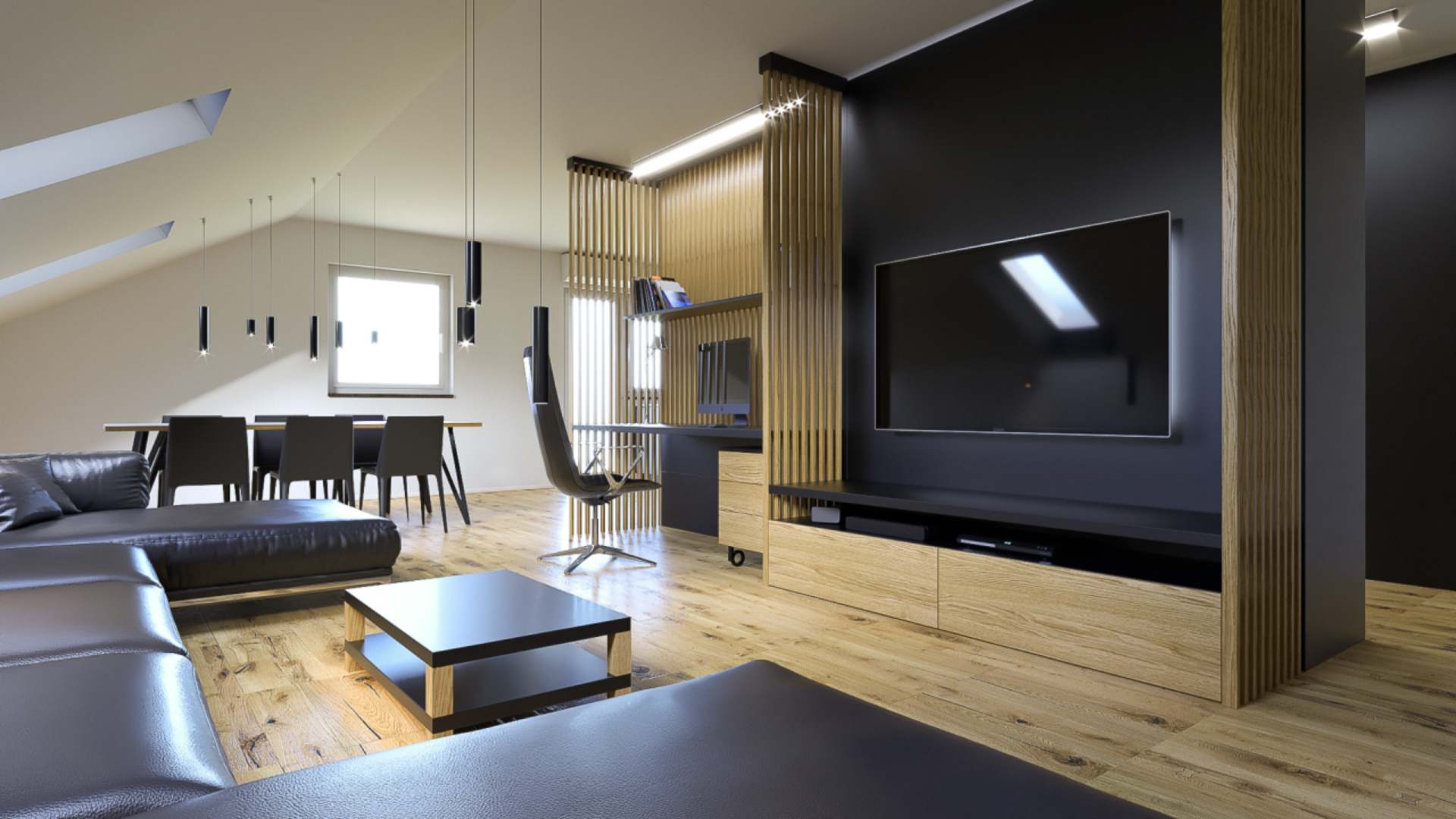 WHAT DOES A KREATIF INTERIOR DESIGNER IN SLOVENIA PROVIDE?
OUTLINE PLAN OF THE PROJECT
For sure most of the owners have an idea in their mind on how their interior should look like. But they do not have the correct resource or do not know the right way to turn this idea into reality.
In this stage, a creativ(f)e interior designer performs for the client:
– Precise measurements of the space (the 3D model of an existing state)
– The layout of the ground plan, which is modern and functional (Compatibility with the fire study of the building)
– The basic outline of electrical connections (socket positions, light positions, plug positions)
– Measurement of doors, windows, chimneys, terraces, balconies, stairways
– Prepare Mood boards for every room
– Professional sketching of rooms,
– 3D plot and the production of visualizations and renderings, which allow the visualization of the final result of the project.
This allows both the designer and the client to anticipate potential problems in advance and change what is needed if the result of the visualization does not correspond to the customer's vision. This allows you, as a customer, to have complete control over the final outcome of the project from the beginning, until project termination.
Besides, if you decide for a potential sale of a house or apartment, you can provide these customers with visualization photos as they are a realistic and professional presentation of the house, thus enabling yourself a faster sale.
PROJECT FOR EXECUTION
We, as interior designers will perform for you:
– The basic outline of electrical connections (socket positions, light positions, plug positions)
– Shape of plumbing and other mechanical installations
– The laying of ceramics
– Selection of floor coverings
– Selection of lowered ceiling, lining, and wallpaper
– Selection of furniture
– Range of materials for kitchens
– Kitchen sketches
– Bathroom and a collection of bathroom equipment sketches
– Collection of lights and lighting plans
WIDE NETWORK
With a large number of projects, we created access to various resources, materials and a wide range of people at the responsible prices that ordinary people do not have. This is a great advantage, as this can provide customers with a wide range of manufacturers and materials at prices that are within the budget framework of the client.
As good interior designers, we will help you create a good relationship with the contractors and will also help you in tackling major design flaws and mistakes that generally happen in the process of interior design.
As already mentioned, we have a tremendous contact list of external contractors and workers in Slovenia and surrounding countries, such as:
– plumbers,
– electricians,
– Manufacturers of various furniture, etc.
We will provide you with the best manufacturers in the industry, document the actual project progress and even supervise your site. Using the ideas and opinions of the client, together with the selected materials and good cooperation with other contractors in the project, we strive to make your house look unique, collected and professionally done.
BUDGET MANAGEMENT
A Kreatif interior designer will take on the entire project of interior design, rather than the client, and will notice all details that people do not usually recognize. We follow a set action plan and will inform the owner of the house about the various steps taken.
A good interior designer is well versed on how to manage expenditures, look for materials and resources for arranging and organizing the house. This saves time and money to the client, as he/she does not need to explore different products. Also, there are no hidden costs, and the interior designer will encourage the client to spend their budget more efficiently. All this will have a positive impact on the overall budget and time spent on the project.
ERGONOMY IS IMPORTANT
A good interior designer will always prioritize the physical, physiological and psychic comfort of a person. Many people underestimate the power of ergonomics in a successful design project.
As professional interior designers at Kreatif Design, we are well versed in the science of anthropometry, i.e., a scientific study of the measurements and relationships of the human body. We will provide you with a unique perception of the space, which will enable some clients to exceed their expectations or to refute them with understanding.
FOLLOWING AND SETTING TRENDS
As most designers do, we also follow trends and check others design ideas. But what we do differently is that we combine more professions and check more fields to find new interior design ideas. We often work on a project that is outside of the interior design field, and we have industrial design experiences, and besides, we also have architectural design experiences, and we understand all areas that must work together in harmony to provide the best space experience possible for our clients. We are thrilled by fresh design ideas and new concepts especially if we are faced with problems that at first seem impossible to be solved in a designed way.
To make the design more efficient and usable, we at Kreatif Design follow the concept of environment-conscious solutions and use local materials and local contractors. This will, in turn, help you to save a lot of money by wasting less amount of energy than before.
CONSIDERING DIFFERENT OPINIONS
Often at home, not everyone might have the same idea on how their new house should look like, especially after a full renovation. Everyone's opinions might clash together, and no unanimous decision is made.
Interior designer is a person who will gather all of these opinions, group them and would add all of them together to interpret them in reality in accordance with the given regulations, proper functionality, ergonomics, aesthetic appearance, and overall budget until he receives a product that will satisfy at least most of the family members.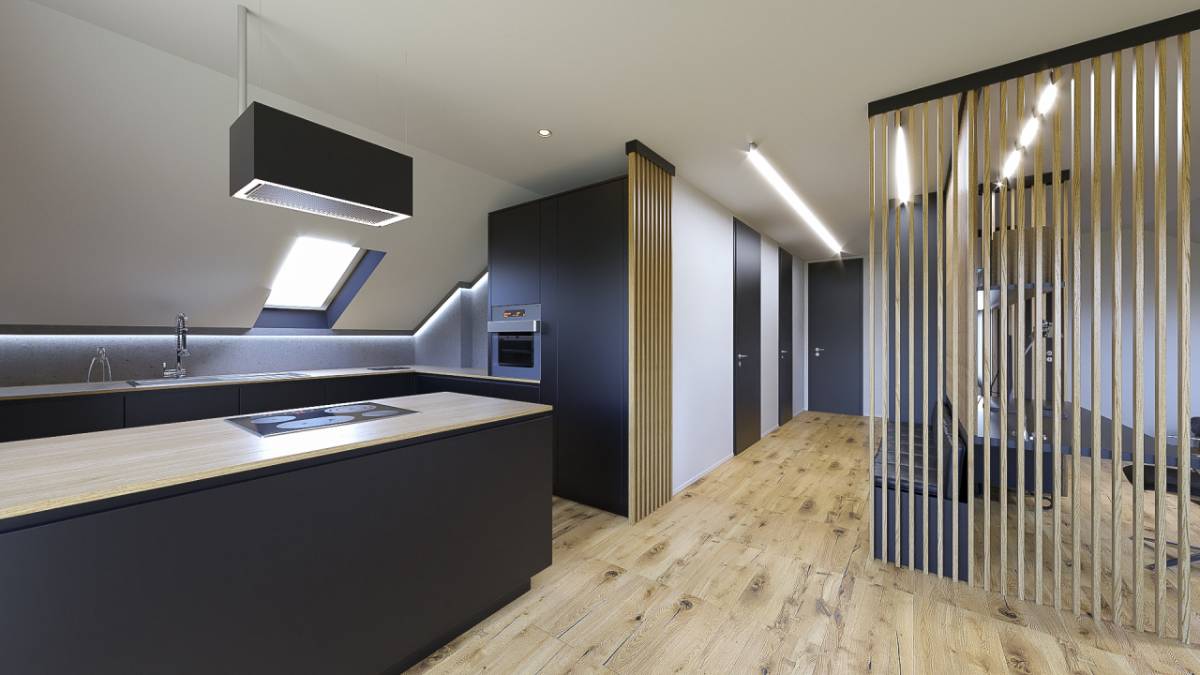 INTERIOR DESIGN HAS KREATIV(F)E BENEFITS
The essence of interior design is definitely a search for Kreativ(f)e solutions. Therefore, at Kreatif Design, we strive for a detailed and thorough study of ergonomics, functionality and in the forefront, we are looking for creative solutions. We are an architectural bureau that has moved from one-person company in a very short time to an organization with several experts in the fields of architecture and interior design, and gained a wide range of experience and project realizations.
We are making changes not only for a single client, but for all organizations and their partners, and we leave a timeless track on the design of space. We have created interiors for successful Slovenian companies (Livar, Uprom, Ema, etc.), but we can also mention our interior design for the Qatar investor and interior design in Tanzania.
We pay our full attention to the project, and we endeavor, in spite of certain regulations, to place the client's wishes in functionality and the aesthetics of the interior space as best as possible.
WHAT IF, I ORDER CREATIVE SOLUTIONS FROM ELSEWHERE?
If you have decided on renovating the house by yourself, where there is a need for replacing the wall fixtures, lightning, and other attachments, then it is necessary that you seek out for professional help. We design many projects by measuring floorplans or 3d scanning them and then provide distance services for our clients. Our projects are already seen in surrounding countries and from Columbia to Tanzania and from South Africa to Austria.
Interior design is just as much an art as it is ergonomy and usefulness of space and with our help, we increase the value of your home or another real estate. We have an artistic insight and this might help you to provide a required dream house. We will help you save money in the long run and also eliminate the cost of house maintenance.
Clearly, a professional interior designer can lend credibility and quality to any space.
So if you are looking to get style, skill, and experience, it will always do you good to hire a Kreatife interior designer.