The solar powered catamaran project started far away, and I mean literally, as clients contacted us from Africa. They are an advanced Rwandan company, named Vs Hydro, that has contacted us with the mission of designing a vessel that will significantly improve the way of life of the people around Malawi, Victoria, Tanganyika and Kivu lakes. We embarked on the project with a common desire to develop an ecological vessel at an affordable price that will revolutionize transportation on the great African lakes.
 Namely, these are huge lakes – with a total area of ​​133,000 km² and inhabited by more than 2,000 species – which indirectly feed a large number of Africans living there. According to the African Great Lakes Initiative (AGLI), the aqueduct is a key source of income for the local population. As many as 691,000 people are engaged only in fishing, catching more than a billion fish a year. In addition, these lakes are also crucial for the transport of goods and people, who access various services, industry and social life through the lakes.
Conditions on such large lakes are unpredictable and can change quickly. The boats they use are mostly quickly destructive and uncompetitive to weather conditions, which, together with the lack of equipment and poor communication, leads to a large number of deaths (around 5,000 per year in Victoria for example). Therefore, the challenge was to make an affordable and reliable emission-free vessel that would meet the needs of the locals and cope with all weather conditions on African waterways.
---
The catamaran is six meters long and has a carrying capacity of one ton. The vessel allows us to cruise at a speed of six to twelve knots and has a range of about 40 kilometers. It consists of only two parts, while one part represents the hull of the vessel and the other the roof, on which the panels for absorbing solar energy are located. We chose polyethylene (HDPE) as the main material of the vessel, as it boasts an exceptional strength-to-density ratio, which allows the boat to absorb a large number of shocks before being damaged.
The boat is powered by a 6-10 kW brushless DC motor combined with a state-of-the-art technology, which is integrated into the control system and whose power is generated by a Monocrystalline Solar Array 48 V 4000 W, fed through a pack of LifePO4 Batteries (48 V 100 Ah/ 200 A). 
This light and extremely economical vessel has 10 solar panels that are attached to the roof and contribute up to 4 kW of power. The boat has lithium "Powerwall" type batteries, which are popularized also by Tesla.
---
AMAZIAPP
The solar-powered controller has a 10-inch smart boat display that houses the application named AMAZIAPP, which includes navigation, battery and charging optimization, range calculation, optimal speed calibration, sail home function, etc. So, the main tasks of the system are to manage solar energy input, battery storage, engine performance and power consumption along with navigation. The system provides us with all the needed information and enables a peaceful arrival at the right time.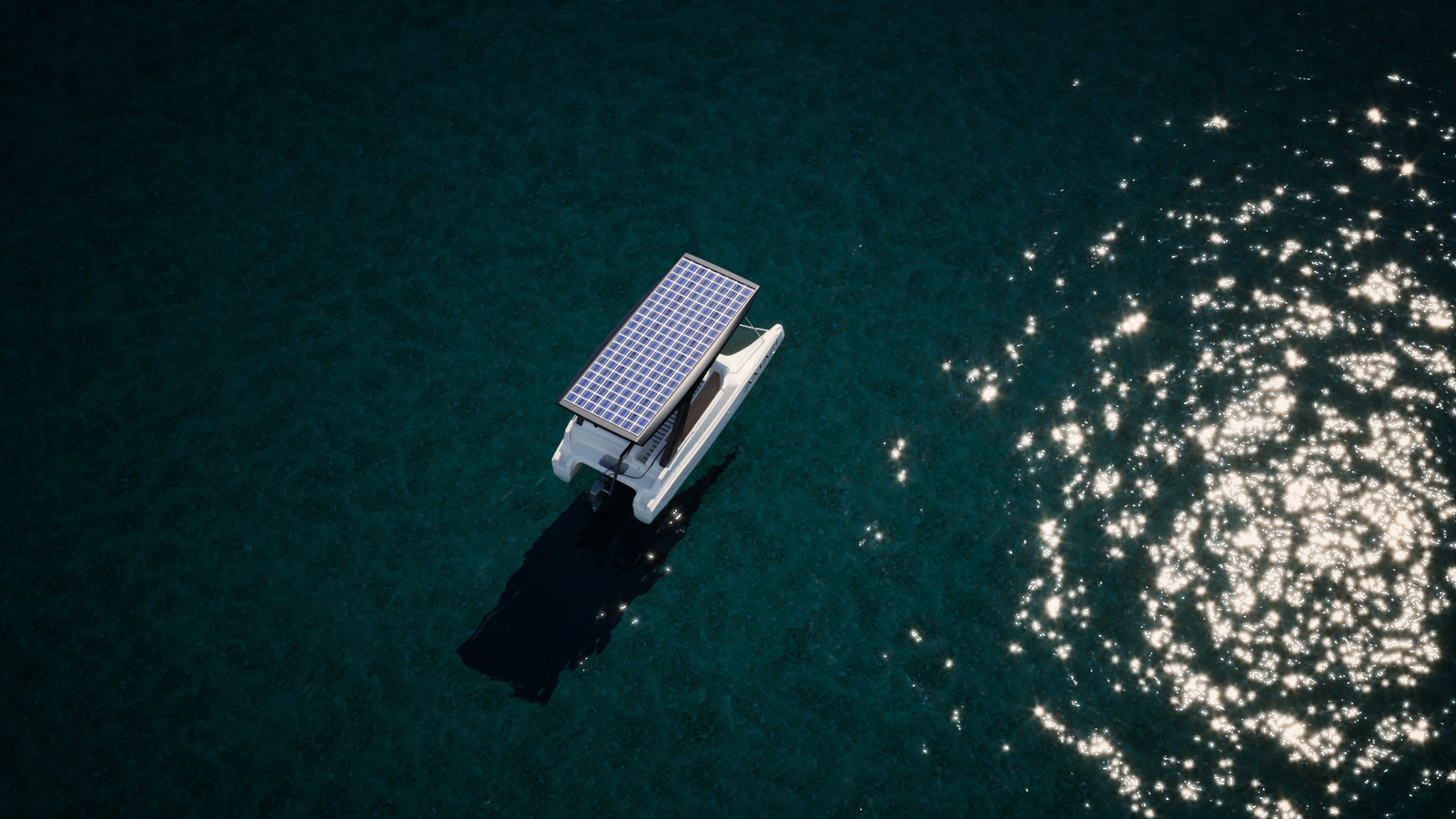 ---
---
---