Yachts are uniquely complex vehicles. They operate at the interface of two fluids, air, and water, deriving propulsion from the former and support from the latter. Both these media are subject to atmospheric effects, the wind can blow a gale or not at all, the sea can be mirror smooth or violently rough.
Not surprisingly, in this complex environment, many aspects of yacht design resist comprehensive mathematical analysis, and consequently, the design of a sailing yacht also straddles two media; namely art and science. Successful yachts are often artifacts of real beauty, and this is a reflection of the fact that correct analytical design can be married to the aesthetically pleasing physical form that is in line with the old maxim: what 'what looks right is right.' Sailing yachts offer a wide scope for scientific investigation, presenting problems of the highest complexity, not only the fluid' mechanics aspects but also the solid mechanic's considerations and the complex interactions between form and weight which determine the yacht's performance and behavior.
The science and technology associated with the design, construction and operation of sailing yachts, along with fabrication and construction materials technology, are all advancing at a rapid rate. Yacht design is a specific field in which science and art remarkably compliment each other. But mostly yacht design is about passion. A passion for sailing, for meticulous art or maybe elegant architecture, yacht design is a field that can fulfill all of them.
Contemporary luxury yachts are rarely used just for its function to transport you from one place to another. They are mostly about adventure and retreat, an ultimate experience, that no other form of transportation can offer.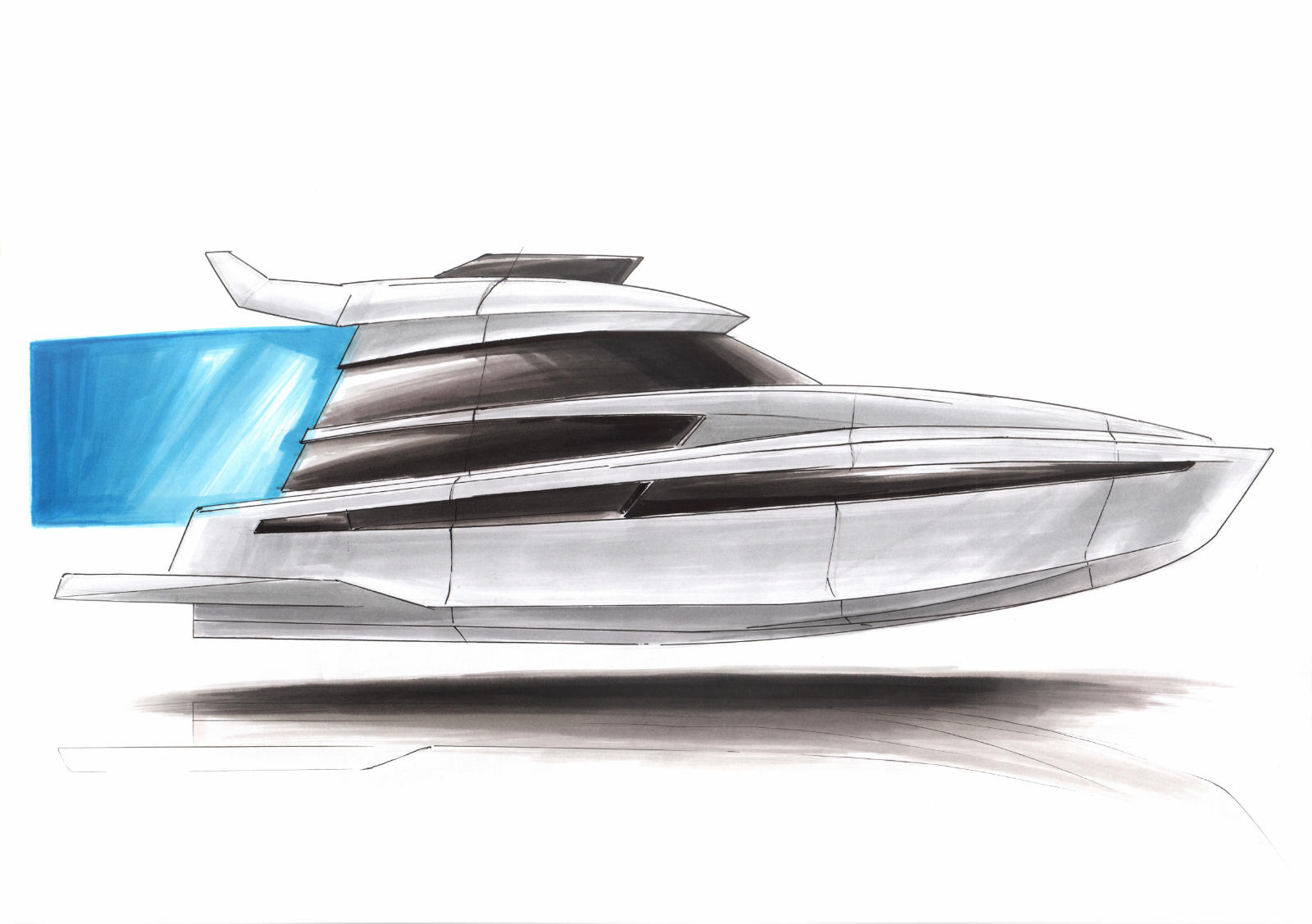 The yacht design industry is one of the oldest, and in these many years, many things were thoroughly thought through. For this reason, it is usually not a good idea to start your design from scratch, because in yacht industry most of all, you are faced with constraints that you need to realize before you start designing a yacht.
That is why it is essential, that when you start designing a yacht, the owners need to sit down with their designer, their captain, and their crew and establish precisely what they want with their yacht. We enjoy the process of listening to our clients and trying to build precisely what they want.
Because of the previously mentioned constraints that all yacht designers are facing, we need to present the clients with many different hulls, that would give the designer and the general client dimensions. Yacht designers usually take a yacht that has excellent sailing capabilities and a lot of space to manage. When the client picks the overall dimensions, we can begin with planning the hull, and from there we can start with the general arrangement.
Establishing the general arrangement in yacht design is one of the most essential and most vital parts of the design process. We move on to develop an excellent deck plan that goes perfectly in hand with propulsion arrangement and hull size.
Yacht design process:
–general arrangement
–exterior side view / longitudinal section
–hull and deck design
–hydrostatic and stability
-high-speed hydrodynamics (if it is planning boat)
–ruder design
–propulsion and engine design
–weight calculation
–finite element analysis
–evaluation
–updating data from the beginning

All of these areas dictate a perfect concentration and dedication from a designer. He has to perform perfectly to achieve design perfection.
At our design studio, we are aware that yachting needs to be a relaxing experience on every step, so we strive to design yachts with the least possible stairs, which are comfortable to use. We also adore interiors that are innovative in the arrangement and unique details.
YACHT DESIGNER
And as is adventurous going on an expedition, it is brave for a yacht designer, designing a yacht.  It is one of the most interesting adventures that a yacht designer likes to start with his clients.
Yacht designers usually have various backgrounds, and passion brought them to the yacht design field. The same principle formed Kreatif Design. We are specialized in industrial design and interior design with the emphasis on enthusiasm for combining those fields to create useful and aesthetically perfected yachts, even for those, who care about design and perfection more than usual.
A yacht designer usually concerns himself with certain restrictions that come from the fact that you are dealing with designing a fun, comfortable and uniquely beautiful vehicle that will also serve as a form of transportation on the sea, lake or river.
Our founder Andrej Kregar started his career as a yacht designer and has gained many valuable experiences during that time. He had endeavored in large design projects such as the design concept for an Ocean class 57. Beside more significant projects, he had also attempted in some small tasks on some projects as a bonus to the already finished projects such as the design of the canopy for the Shipman 59 and the interior design for the Greenline 33 model. He possesses knowledge from other fields, such as smaller product industrial design, interior design, architecture, and many more. He knows how to masterfully intertwine these fields into an aesthetically and functionally pleasing product.
Experience is most important when being a yacht designer and at our studio, we strive for new knowledge and projects that will bring us just that. We love starting new projects with our clients, and we begin by listening to the fullest extent, what the client is saying and wishing.
Being a yacht designer doesn't just mean the designing of the exterior, interior, hull, deck, propulsion and just blindly following every wish of the client and not making sure it will work. It is a fascinating process of meticulously combining different fields such as interior design, industrial design, architecture, etc. and looking at each part of the yacht separately and as a part of an active working unit, that works harmoniously. Harmonious working of every part altogether and individually in the yacht is also one of the essential things a yacht designer must focus on.
We take great pleasure in this process of designing because it is in part science and is in part art. It is an exquisite field that can satisfy both the artist and the scientist/architect/engineer in you.
SAILING YACHT DESIGN
Sailing yacht design is an area that differs quite a bit from a motor yacht design. There are certain different restrictions that you need to reconcile to make an excellent sailing yacht. The same as a motor yacht, leisure sailing yacht needs to be comfortable, functional, fun and spacious.
Deep space on board allows the yachts to be sailed with large crews. Every yacht designer believes that in addition to clearly structured workspaces, modern yachts usually should also offer large areas for socializing on board – both on and below deck. Besides, a lot of natural light in the cabins makes life onboard a pleasure, so a yacht designer makes sure that in his or her designs, every cabin is well naturally lit. In sailing yacht design it is vital to create areas that are spacious, functional and that compliment each other very well.
Sailing yacht design process:
–general arrangement
–exterior side view / longitudinal section
–hull and deck design
–hydrostatic and stability
–aerodynamics & rigging
–the hydrodynamics of hull, keel, and rudder
–dynamic behavior of sailing yachts in waves
–materials in construction
–velocity prediction
–structural design of hull elements
–model testing

A good yacht designer strives to make sailing yacht spacious, prudent and luxurious. Our interior designs of a sailing yacht match the functionality, spaciousness, and comfort, of our yacht designs.
YACHT INTERIOR DESIGN
For costumers usually, the interior of a yacht is just as important or sometimes even more important than the exterior. This process demands as much time, and dedication as the exterior design of a yacht does.
It is vital for a yacht designer to make the rooms spacious, functional and safe. Any yacht designer will probably want to make the interior as homely as possible as well as incorporating a luxurious elegance, that will immediately vibrate positive energy as you walk in a specific space.
It is crucial that the interior radiates relaxation. And that can only be achieved by combining elegance, aesthetic perfection, and functionality. It is a unique skill that not many possess and it is an admirable virtue that many would envy. The functionality of a space and aesthetic beauty combined, bring out the best possible design that a customer can fathom. Leaving the customer thrilled, and us as the designers very inspired and undoubtedly proud.
Yacht design should be done with passion or not at all – it is a field that requires the most patience, knowledge, and skill from a designer. Yacht design is without a doubt, the most complex and yet the most artful field of design.
For our customers, it is a form of communicating your style and belief to the world, through your favorite type of transport. It is about lifestyle and adventure.
We at our studio are excited to begin such adventures with our clients and are there to help the clients on their path to achieving their dream. Nothing makes us more proud than a beautiful new yacht design that excites and inspires everyone- us as designers, the client and everyone that will have the chance to see it.